wholesale bulk embroidered Bedding manufacturer,suppliers,factory
July 16,2021
The nice way of adding pure color duvet covers is to decorate them with embroidery, and choose complex embroidery to embellish the duvet cover, making the bedding more vibrant. Embroidered bedding is noble and elegant, and the price of hand embroidery will be very high. Jacquard and embroidery are somewhat similar. Let's learn about them now!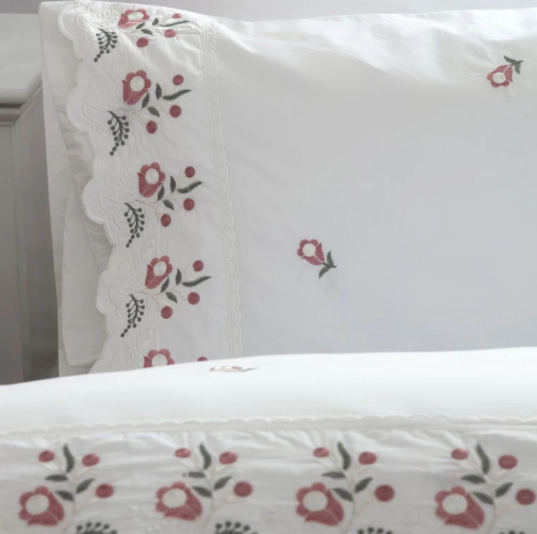 The difference between jacquard bedding and embroidered bedding
Bedding embroidery means that after the cloth is woven, the pattern is embroidered on the machine. Compared with printing, it will not fade during washing and has good breathability and moisture absorption. Embroidery is just a kind of decoration. Generally, embroidered fabrics are plain and encrypted.
Embroidery enriches the emotional language expression of home textiles through colors and shapes. Increase aesthetic appeal. Enhance the layering of the bedding. From a humanistic perspective, embroidery decoration skills are a branch of my country's traditional handicraft culture, and are the accumulation and embodiment of human thought and culture.
Embroidered bedding decoration refers to embroidering patterns and patterns on the four-piece bedding fabric by hand or machine workmanship. A set of simple style home textile kits, after its decoration, its durability, visual effects, and cultural connotations have been qualitatively improved.
The choice of wedding bedding

Embroidered bedding is high-end, and generally the bedding for marriage is embroidered, which represents festive, high-end, and noble, and is deeply loved by everyone.
How to care for embroidered bedding?

When washing embroidered beddings, regardless of the capacity of your washing machine, you can only wash these beddings individually each time.
When cleaning them, turn them out and soak them, but don't take too long, and don't use bleach, so as not to damage your embroidery patterns. Be careful not to put in other clothes, the buttons or metal products of other clothes are entangled with the embroidery thread.
Before the embroidered quilt cover is exposed, try to flatten the quilt cover and air it, and families with conditions to dry it should also avoid drying. Because the ribbon in the embroidered quilt cover may be deformed during the drying process, resulting in unsightly appearance. Be sure to use a low temperature when ironing.
Try embroidered bedding

Try embroidered bedding to make your bedroom full of vitality, now you can find them in Texline, one of the leading wholesale embroidered Bedding manufacturers and suppliers in China. Welcome to contact us and check the price.